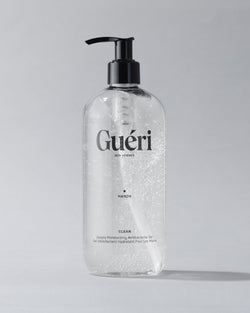 HANDS CLEAN Deeply Moisturizing Antibacterial Gel 500ml
Guéri HANDS CLEAN Deeply Moisturizing Antibacterial Gel is a scientifically developed hand sanitizer that disinfects the hands without drying out the skin.
Unlike standard antibacterial gels, HANDS CLEAN Deeply Moisturizing Antibacterial Gel contains Pentavitin, a natural and extremely moisturizing ingredient from the wheat plant. This agent is organic, 100% plant-based and possesses a unique ability to bind moisture into the skin for up to 72 hours.
During a time of frequent daily use of hand sanitizers, this gel heavily reduces the risk of drying or damaging the skin.
70% (v/v) alcohol*
Instantly moisturizing for up to 72 hours
Strengthens skin barrier
Elegant packaging that can be on display everywhere
* HANDS CLEAN Deeply Moisturizing Antibacterial Gel complies with government recommendations for safe and effective hand sanitizers.
A natural, organic carbohydrate complex extracted from the wheat plant binds to the skin like a magnet. The complex is very reminiscent of one already found naturally in the skin. The humectant instantly moisturizes the skin and strengthens the skin barrier resulting in significantly softer and healthier-looking skin.
Alcohol, Aqua, Isopropyl Alcohol, Glycerin, Saccharide Isomerate, Citrus Aurantium Bergamia Fruit Oil, Citric Acid, Sodium Citrate, Polysorbate 20, Acrylates/C10-30 Alkyl Acrylate Crosspolymer, Aminomethyl Propanol, Citral, Limonene, Linalool.
Apply a generous amount of gel on hands and wrists. Rub thoroughly until your hands are completely dry.
Guéri is French for 'healing'.
Guéri SKIN SCIENCE was founded in 2020 by Karina Thomsen, a trained pharmacist with more than 25 years of experience in the pharmaceutical industry, mainly within dermatology. The products are developed in collaboration with a Danish laboratory specializing in plant-based biochemistry. The unique products are based on a high content of active, natural ingredients and developed to target specific skincare challenges.
The story behind Guéri is that Karina searched for specialized and optimal products to prepare her skin in the best possible way prior to her own eyelid surgery. As Karina Thomsen says: 'I had considered corrective eyelid surgery for a few years, however, I felt a need to prepare in an optimal way to ensure the best possible result. I wanted my skin to heal nicely, and I wanted to do my best to avoid visible scars.
Ultimately, what I needed was an opportunity for me to influence the process as well as the result. As I could not find skincare products that covered my need I decided to develop Guéri EYES PROCEDURE KIT, which supports you before and after the procedure'.
Since then, several other specialized products have joined our universe and more products are being developed.
We expect to launch unique products targeting lips, feet, hands and face during 2023.
Guéri SKIN SCIENCE is available online at gueri.dk and Amazon as well as in select beauty clinics and high-end stores.
If you have questions - do not hesitate to write or chat with us. Write on info@gueri.dk. We will respond to your message as soon as we can.
Guéri ApS
Kollegievej 6
2920 Charlottenlund
Denmark
Phone: (+45) 4091 1967
Email:
info@gueri.dk
VAT-No.: DK-41078677