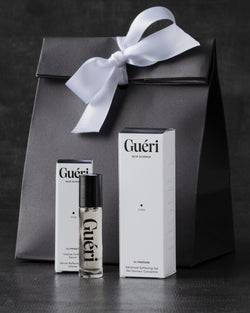 EYES Optimal Care Package
The set consists of Guéri EYES 01 PREPARE Advanced Softening Gel and Guéri EYES ILLUMINATE Intense Firming Serum.
Guéri EYES 01 PREPARE Advanced Softening Gel is an extremely softening eye cream that adds elasticity and moisture to the delicate skin around the eyes. Guéri EYES ILLUMINATE Intense Firming Serum is a refreshing and nurturing serum targeted at the delicate eye area. The advanced formula of active natural ingredients tightens fine lines, while dark circles are significantly reduced. Also has an uplifting effect.
EYES 01 PREPARE - the moisturizing and softening properties of the eye cream are due to a high content of active ingredients including Hyaluronic acid, Vitamin B3 and C, which also stimulate collagen regeneration. Plenty of moisture is added from a well-considered mixture of organic Aloe Vera, Cocoa Butter, Avocado Oil, Shea Butter and Coconut Oil. A concentrated extract from the rosehip plant also has a regenerating and healing effect on the skin. EYES ILLUMINATE contains, among other things, potent extracts from the Jasmine and Hawthorn flowers. It is the combination of these key ingredients that has a firming effect and has a unique ability to reduce fine lines and dark circles. The small metal ball makes it easy to apply the serum and at the same time has a nice cooling effect on the skin. Apply EYES ILLUMINATE to clean skin and let it penetrate completely. Then apply EYES 01 PREPARE to the delicate skin around the eyes. The combination of these 2 is the perfect firming care for the eye area.
You will find all information about ingredients on the individual product pages.
Apply EYES ILLUMINATE daily to the delicate skin around the eyes after bathing to tighten, even out fine lines and remove dark circles. Then use EYES 01 PREPARE morning and evening on the delicate skin around the eyes. Can also be used on the fine lines around the lips (smoking wrinkles), on the neck or other places where your skin needs extra moisture and care.
Guéri is French for 'healing'.
Guéri SKIN SCIENCE was founded in 2020 by Karina Thomsen, a trained pharmacist with more than 25 years of experience in the pharmaceutical industry, mainly within dermatology. The products are developed in collaboration with a Danish laboratory specializing in plant-based biochemistry. The unique products are based on a high content of active, natural ingredients and developed to target specific skincare challenges.
The story behind Guéri is that Karina searched for specialized and optimal products to prepare her skin in the best possible way prior to her own eyelid surgery. As Karina Thomsen says: 'I had considered corrective eyelid surgery for a few years, however, I felt a need to prepare in an optimal way to ensure the best possible result. I wanted my skin to heal nicely, and I wanted to do my best to avoid visible scars.
Ultimately, what I needed was an opportunity for me to influence the process as well as the result. As I could not find skincare products that covered my need I decided to develop Guéri EYES PROCEDURE KIT, which supports you before and after the procedure'.
Since then, several other specialized products have joined our universe and more products are being developed.
We expect to launch unique products targeting lips, feet, hands and face during 2023.
Guéri SKIN SCIENCE is available online at gueri.dk and Amazon as well as in select beauty clinics and high-end stores.
If you have questions - do not hesitate to write or chat with us. Write on info@gueri.dk. We will respond to your message as soon as we can.
Guéri ApS
Kollegievej 6
2920 Charlottenlund
Denmark
Phone: (+45) 4091 1967
Email:
info@gueri.dk
VAT-No.: DK-41078677